Innovative. Treater. Design.
That
sets us apart

,
from any competition.

Fre-Flo Oil Industries manufactures oilfield equipment, specializing in horizontal emulsion treaters.

Read More
Products
Some of our work
10 Good Reasons Why
A Fre-Flo Horizontal HDX Treater
Will Fix Your Treating Problems
It requires no elaborate foundations, tie downs, or expensive lease upending.
Easy to hook up as most connections are located within easy reach,
together with the controls grouped low for ease of operation.
Lower overall temperature in the treater, resulting in less radiation loss reducing the load on firetubes.
Internal piping is eliminated, taking guesswork out of trouble-shooting.
Firetubes are positioned directly in emulsion. No need for heating the water,
which takes twice as much energy, and promotes scaling.
No costly filter sections to clean or electric grids which require expensive wiring installations.
The elimination of welded brackets for spreader plates, filter sections,
grids, leaves fewer corners, making coating easier.
Completely independent free water knockout provides rapid separation of water with no agitation.
Unique internal heat exchanger preheats incoming fluid.
Cool gas released from incoming production is mixed with warm gas liberated during the heating process, causing the heavier fractions to condense and return to the heated oil, helping retain maximum gravity.
*Sizing charts & data available on request.
FACT: A horizontal treater has two to three times the capacity of a vertical of comparable size.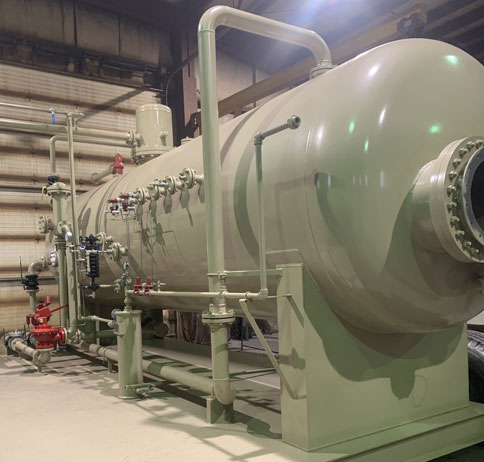 Contact Us
Do you have a question?
We are here to help :)
FRE-FLO OIL

306-634-6966

KANSTEEL

204-727-1314

Office Hours

Mon - Fri: 8:00 - 17:00